Lemont Home Security Systems
---
ALERT PROTECTIVE RESIDENTIAL SECURITY SYSTEMS of LEMONT
---
Since 1982, Alert Protective Services has been Chicago's award-winning and locally operated source for your home and business security needs. For over 25 years, APS has been one of the leaders in both business and home security systems in the Chicago land area. This family-owned company has always stood behind there exceptional products and services. APS prides themselves on their reliability. The owners, operators, and technicians all live and work in the Chicago land area and they know exactly how to minimize the safety concerns local residents and businesses face on a daily basis. With APS, you don't need to worry about out-of-town management. They ensure the most rapid and prompt service available. APS has always been there when you need them. They provide your family with the highest level of protection possible. APS has always strived for customer satisfaction and loyalty. They protect every customer's home as if they are protecting their own. Residents of Lemont can enjoy the same high level of service and quality. APS offers 24 hour a day service and support to all residents of Lemont. It is their goal to ensure the safety and wellbeing of your family and home.
Lemont is a village located 27 southwest of downtown Chicago. The village actually resides in three different counties; Cook, DuPage, and Will. Lemont is a smaller suburb with a population of 13,098. There are a total of 4,420 different households in Lemont. Lemont is a diverse village with its main ancestors being Polish and German. The village has a median household income of $70,563. Crime has been on the rise in recent years in Lemont, especially the number of thefts and burglaries. Last year, there was an average of 31 crimes committed per square mile in Lemont. To gain a better understanding of the types of crimes, we look to last year's statistics. There were a total of 197 crimes reported, 189 of which were property thefts or burglaries. Only 8 were violent crimes. The chances of being a victim of a violent crime are 1 in 1699, compared to that of a theft or burglary, 1 in 70. As a homeowner, you can see that property thefts and burglaries affect a far greater number of residents and they occur more frequently. One way to reduce your risks is to have a professional from APS come out and diagnose your home security needs. All Chicago land homeowners should have some form of monitoring system in place in their home. Most homeowner insurance policies offer considerable discounts for homeowners who have something in place in their home. Also, the FBI recently conducted a study and found that homes equipped with a security system are 15 times less likely to be burglarized.
Alert Protective Services is a valuable investment in safety and security for both your family and your business. Our professionals offer the background and experience that you would expect from a Chicago-based business. APS knows and understands the needs of its neighbors and businesses. Your safety and security is our main concern. Our experts are available to help you decide the best and most economical security service and monitoring service for you. We don't sell a one-size-fits-all product; we customize the security and monitoring systems to your specifications. Give our service consultants a call today to get started on designing the best security system for you.
Lemont Property Crime Statistics
---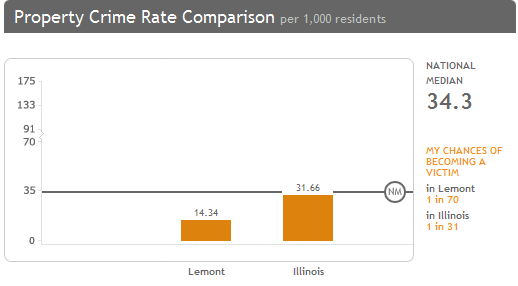 Our professionals know exactly how to handle the security concern of the residents of Lemont and they offer a wide variety of options, including, but not limited to:
Home Alarms
Business Alarms
Fire Alarms
Intercom Systems
Central Vacuum Systems
Door Access Systems
Pre-wiring Consultation
Surveillance Equipment